Comment envoyer un message depuis WhatsApp en PHP avec WhatsAPI Official?
j'essaie d'utiliser la bibliothèque officielle WhatsApi pour envoyer un message via WhatsApp à partir d'un fichier php. J'ai déplacé dans mon serveur web Apache la bibliothèque, dans un test d'appel de dossier, comme ceci: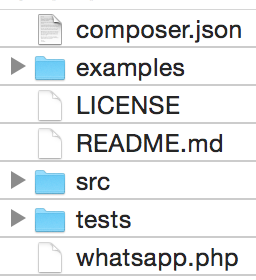 le fichier whatsapp.php est celui-ci:
    <?php
    require_once './src/whatsprot.class.php';
    $username = "1XXXXXXXXX";
    $password = "password";
    $w = new WhatsProt($username, "0", "My Nickname", true); //Name your application by replacing "WhatsApp Messaging"
    $w->connect();
    $w->loginWithPassword($password);
    $target = '1xxxxxxxxx'; //Target Phone,reciever phone
    $message = 'This is my messagge';
    $w->SendPresenceSubscription($target); //Let us first send presence to user
    $w->sendMessage($target,$message ); // Send Message
    echo "Message Sent Successfully";
?>

je suis confronté à un problème avec la nouvelle bibliothèque WhatsProt (), qui bloque tout le code (peut-être des sockets ?).
Donc ma question est, comment puis-je résoudre ce problème ? Si non, existe-il d'autres solution pour envoyer un message à partir d'un script pho ?
vous pouvez utiliser le script ci-dessous pour envoyer un message à partir de whatsapp dans PHP.
https://github.com/venomous0x/WhatsAPI/tree/master/examples
configurer le code source en Apache et run examples/whatsapp.php fichier.
vous avez la modification ci-dessous.
//simple password to view this script
$config['webpassword'] = 'MakeUpPassword';

et
$config['YOURNAME'] = array(
'id' => 'e807f1fcf82d132f9bb018ca6738a19f',
'fromNumber' => '441234567890',
'nick' => "YOURNICKNAME",
'waPassword' => "EsdfsawS+/ffdskjsdhwebdgxbs=",
'email' => 'testemail@gmail.com',
'emailPassword' => 'gmailpassword'
);

ça marche pour moi..
répondu
Jayson
2015-04-16 10:58:29
afaik vous êtes probablement mieux lotis en train d'écrire une interface pour un projet python. Par exemple: avoir un microservice qui envoie des messages pour vous en python, et vous les appelez via une requête json ou similaire
le voir ce projet, l'air prometteur: https://github.com/tgalal/yowsup
il semble que la seule option viable jusqu'à présent, comme tout le reste a été arrêté ou a une forte probabilité pour obtenir votre compte banni
voir la discussion ici:
répondu
Toskan
2018-04-05 21:01:07